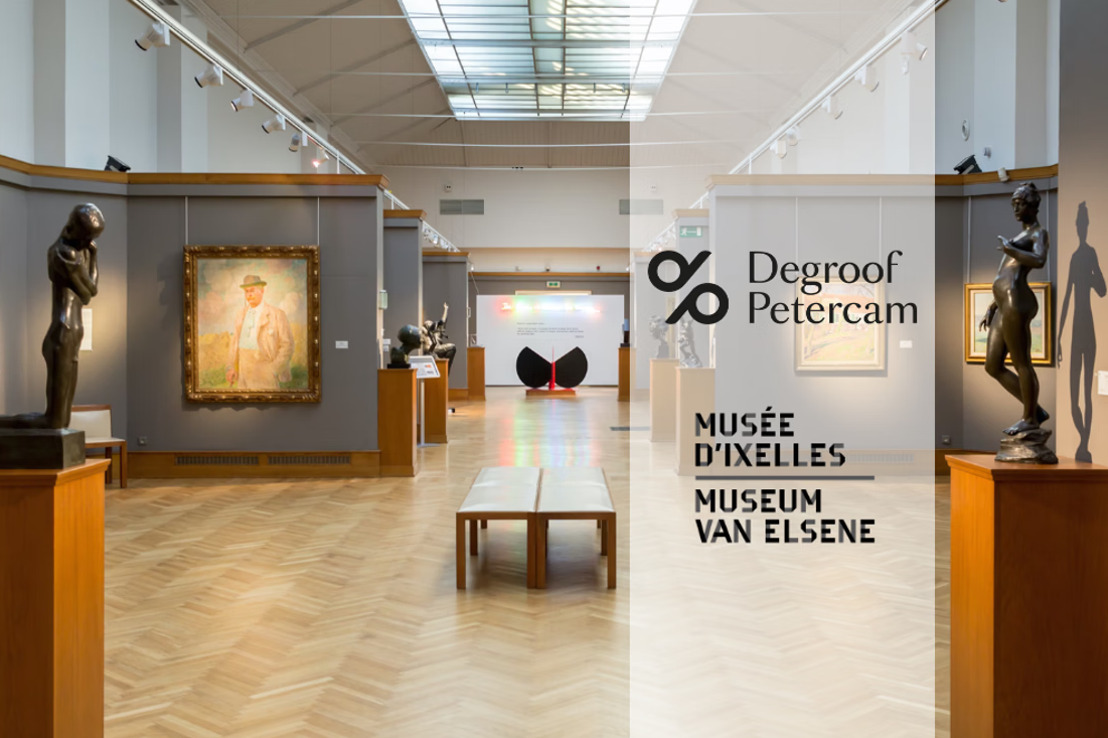 Degroof Petercam enters a unique partnership with the Museum of Ixelles
With the support of Degroof Petercam, the Museum of Ixelles is launching a call to artists to design an original artwork for the museum's new entrance hall.
Brussels - June 29, 2023 - The Museum of Ixelles, which houses a collection of over 15,000 works providing a broad overview of Belgian art from the 19th century to today, is partnering with investment house Degroof Petercam. The museum is currently undergoing renovation and expansion works and will reopen its doors in 2025. Upon reopening, it aims to showcase an emblematic artwork as the centerpiece in the entrance hall. With the support of Degroof Petercam, the Museum of Ixelles is now inviting artists active in Belgium to submit their applications.
Long history and care for heritage
Just like the Museum of Ixelles, which was founded 130 years ago, Degroof Petercam can look back on a rich history. For over 150 years, the investment house has been committed to protecting its clients' heritage. Degroof Petercam's expertise lies among others in wealth management, a domain in which preserving cultural and artistic heritage is also of great importance. Based on these shared values, Degroof Petercam is now initiating a unique partnership with the Museum of Ixelles to contribute to the promotion of Belgian artistic heritage.
The major renovation and expansion works that are currently ongoing in the museum will be completed in 2025, followed by the grand reopening. At this reopening, a signature artwork by an artist active in Belgium will be exhibited in the new monumental entrance hall. Therefore, with the support of Degroof Petercam, the Museum of Ixelles is now inviting emerging or established artists to submit their applications for this opportunity. Afterwards, a jury composed of experts, including a representative from Degroof Petercam's Art Advisory department, will select a work that reflects the character, collection, values, and identity of the museum.
Sabine Caudron, Head of Private Banking at Degroof Petercam: "Throughout the years, we have built a strong relationship with the Museum of Ixelles through various collaborations. This support aligns perfectly with our motto, 'Precious. Partnerships.' and goes beyond mere financial assistance. Our connection with the Museum of Ixelles and our shared values form the ideal basis for a new partnership that also provides real added value for our clients and employees, many of whom are art enthusiasts."
Claire Leblanc, Directeur-Conservator, Museum van Elsene: "We zijn verheugd om aan dit nieuwe hoofdstuk in onze geschiedenis te kunnen beginnen met Degroof Petercam. We zetten ons allebei in voor het behoud van patrimonium, of het nu artistieke of economische welvaart betreft. Degroof Petercam kan bogen op een jarenlange expertise in het domein van cultureel en artistiek erfgoed en is voor ons dan ook een logische partner voor dit project."
Claire Leblanc, Director-Curator of the Museum of Ixelles: "We are delighted to embark on this new chapter in our history with Degroof Petercam. Both of us are committed to preserving heritage, whether it concerns artistic or economic prosperity. Degroof Petercam boasts years of expertise in the field of cultural and artistic heritage, making them a logical partner for this project."
More information
Museum of Ixelles
Claire Leblanc
[email protected] 58 82 83