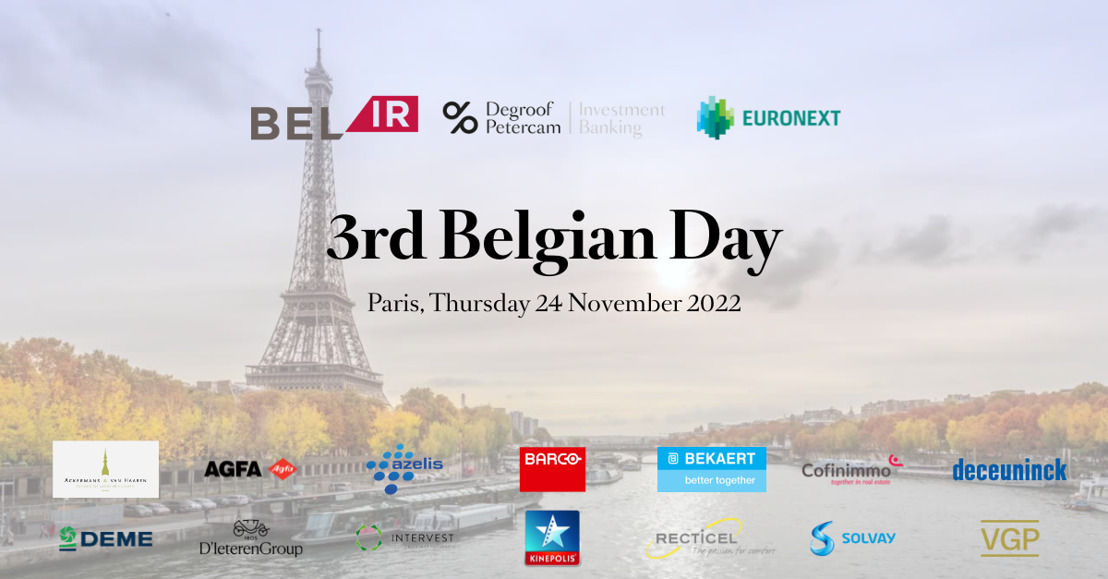 In collaboration with Euronext and BelIR, Degroof Petercam held its 3rd Belgian Day Conference in Paris
Brussels – 25 November 2022 - Degroof Petercam Investment Banking in cooperation with Euronext and the Belgian Investor Relations Association (BelIR) hosted yesterday the Belgian Day Conference in Paris. The event brought together corporate leaders from 14 Belgian listed companies and more than fifty ​ institutional investors.
This edition was attended by a diversified group of companies in terms of size and activity sectors and allowed investors to interact with Belgian CEOs, CFOs and Investor Relations Officers to learn more about investment opportunities in companies listed on Euronext Brussels. The participating companies were: Ackermans & Van Haaren, Agfa, Azelis, Barco, Bekaert, Confinimmo, Deceuninck, DEME Group, D'Ieteren Group, Intervest Offices & Warehouses, Kinepolis, Recticel, Solvay and VGP.
François Wohrer, Head of Degroof Petercam Investment Banking, said: "Following the success of past editions, we have renewed the initiative this year with great success. This Belgian Day Conference is part of our efforts to help Belgian listed companies raise their visibility across the border, to broaden their access to an important investor base in France and to connect French investors with new opportunities. With the largest team in Belgium, our equity research and sales teams continue to demonstrate their ability to provide international investors with detailed financial analysis and recommendations covering large and midcap Belgian companies."