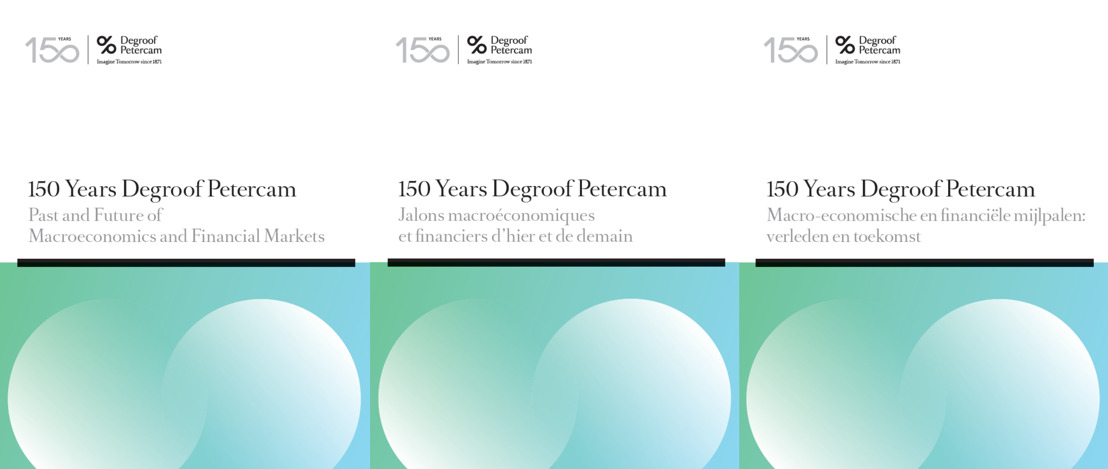 Publication of a new historical and economic book to mark the group's 150th anniversary
In the new book 'Past and Future of Macroeconomic and Financial Markets', published on the occasion of Degroof Petercam's 150th anniversary, the group's economic research-teams offer an analysis of the financial instability inherent in capitalism and of the economic and financial developments of the last 150 years. Crisis after crisis, central banks have strengthened the foundations of their monetary policy. The book draws lessons from this situation, but also from the recent COVID-crisis.
Hans Bevers, Chief Economist Degroof Petercam: "The 150th anniversary year of Degroof Petercam presented the ideal opportunity to bring to life the fascinating period of the last century and a half and to look back at the impressive number of economic and financial developments. During this period, financial crises and moments of prosperity alternated. Socio-economic progress has undeniably continued, albeit in a non-linear, uneven and unsustainable manner. Gradually, albeit too slowly, we have come to a general awareness that there are political limits to unbridled globalization and that socio-economic inequalities and the impoverishment of the planet pose fundamental problems. These themes are also addressed in this new book."
Lessons for the future from 150 years of economic development
What macroeconomic lessons can we learn from this crisis? To what extent will the economic recovery take a greener turn? What role can Europe play in the geopolitical showdown between America and China? What returns can investors reasonably expect in a world of very low or even negative interest rates? ​
Beyond a look at the past, this book also attempts to provide answers to the many questions that arise about the future from an economic and financial point of view, in a context of health crisis. This book, a synthesis of our economic research-teams, is a testimony to the quality of Degroof Petercam's macro-economic and financial expertise. It offers itself to dialectic and criticism with the ambition to contribute to the proliferation of economic thought, always with the ambition to contribute to a better and fairer world.